When I was asked by the people at Tom Bihn (they make some of our very favorite bags ever) if I wanted to collaborate on new products, I said "Sure! Let's Skype!"
They had a better idea. They flew me out to Seattle. I know. Rockstar treatment! I still can't believe it happened. But I took videos, so there's proof. Lots of it.
I had met Tom and Darcy (the head honchos of the Tom Bihn company) many years ago, when I passed through Seattle on the way to teach on the Sea Socks cruise. We'd been emailing back and forth for a while, and had collaborated on the fabulous Swift bag, which was designed by our readers and named by a really cool focus group around a table at the Dark Horse coffeeshop in Toronto. Meeting them in person was kind of like meeting bag-design royalty. I was dumbstruck.
This trip, I got over my fangirlness and we got down to work. I brought lots of products that exist but aren't as good as what I think Tom and his crew can come up with. We looked over all the samples, played with them, explored them in combination, deconstructed, reconstructed and reimagined. There was discussion, lots of sketching, brainstorming, and at the end of the weekend, we had prototypes of our first product.
Here's a little video of Tom with one of his expert sewers making up the first prototypes:
(These little 6-second videos are from Vine…they loop on their own. If the videos aren't playing, click them and you'll be able to see the goods!)
Can I show you any more than this? Well, okay. Because you asked so nicely. Here's a shot of our prototype tool pouches:
These are meant to store your DPNs, interchangeable needle tips and cables and even crochet hooks. They're shown fanned out above, but normally hang tidily from that carabiner in the corner.
You'll see there are three sizes. The smallest fits tools (including interchangeable needle tips) 4″ or shorter. The medium size fits tools 5-6″ long. And the large size fits tools 7-8″ long. This covers just about every interchangeable needle system on the market. The ends are reinforced so that the DPNs, interchangeable needle tips or crochet hooks you put in there won't poke through the clear vinyl. And each of those reinforcements acts as a spot to hold a label, so you can make it easier to figure out what's inside at a glance. You'd buy only the sizes of pouch you wanted, and they are kept together with a double-sided carabiner that (you won't be surprised by this) clips into an o-ring in any of the Tom Bihn bags. Where do you keep the cables? In a square-ish pouch (it's the wasabi-colored one above) that you clip in along with the rest of your pouches. The square-ish shape keeps the circulars from getting kinked. The backing is the same ballistic fabric used in many of Tom's bags. It's astoundingly strong and durable and doesn't attract fuzz.
Don't use interchangeable circulars? We'll be adapting the square-ish pouch for your fixed circulars, to be produced in different sizes to accommodate the length of the needle portion. Those specs are still in development.
So, what do you think?
There were other products discussed, too. One was a new knitter's bag that you can wear over your shoulder or across your body. Another, a case for a fiber tool. We got quite far along on the bag, but the fiber tool case is something for the future…perhaps. There are a lot of things that go into a Tom Bihn product, and unless Mr Tom himself is happy with the product, you won't see it. That means patience is required. But it's always worth it. The TB people tell me 2014 is the earliest we might see any of these new products, but it's possible (if there's enough demand) that the tool pouches could be released at the end of this year.
So what can I show you? How about these videos that I took in the showroom of some of my favorite Tom Bihn bags? Let's do it!
Here's the clever-as-anything Co-Pilot:
And another of my favorites, the Cafe Bag, shown here in a super-saturated Azalea pink!
One of my favorite ah-ha moments of the weekend came when Darcy figured out we could remove the (unused by me) waist strap from my Smart Alec backpack and, using the existing straps inside the bag, turn it into a cinch for my ukulele's neck! This keeps the uke snug against the back of the backpack, in a vertical position, and allows the zippers to snug up at the top, exposing as little of the uke as possible. And leaves tons of room in the bag for all your other stuff.
Uke players, take note: this is a fabulous one-bag carry-on solution that will get your uke past the airline staff without even a sniff of "you're carrying two items and you're only allowed one". (Ask me why this is important and I'll tell you about almost getting barred from a KLM flight because they counted my small purse, tiny uke and regulation-size rolling bag as three separate items and I was only allowed two. Grr.)
One last little video to share:
His factory is full of vintage Singer industrial sewing machines, chairs and storage units. I covet it all. No, no relation.
So what else did we do while I was there? We had an astounding, eye-opening evening at Metrix Create:Space, a really cool place full of 3D printers, laser cutters and other gear so neat, I didn't even know what it was called. We asked Seattle knitters to come and hang with us, knit with us, and show us their Tom Bihn gear in person. And did they ever. The result? This professionally produced video, all about the Swift and how knitters use it.
Enjoy.
---
We've had a lot of contests during our 10th Anniversary year, and we've been saving this one for the right moment. Which is now. Ready?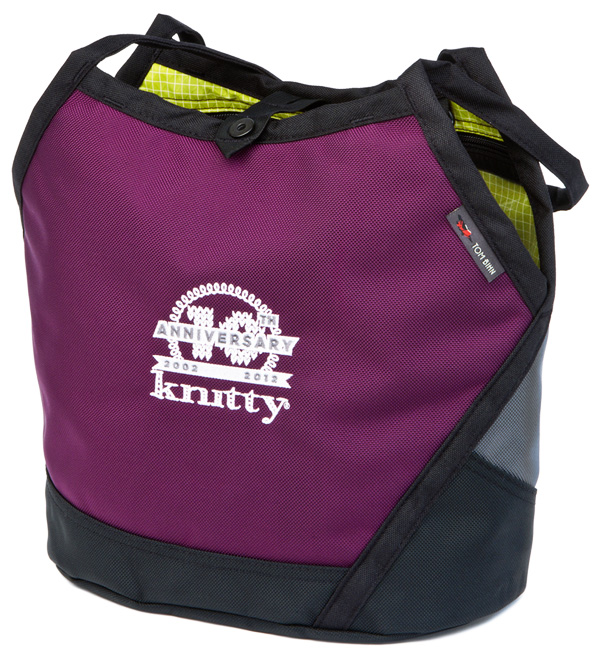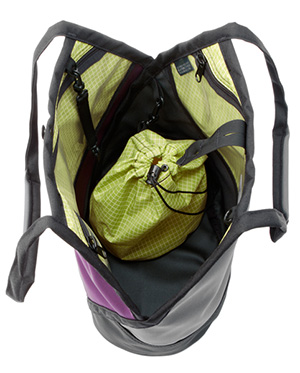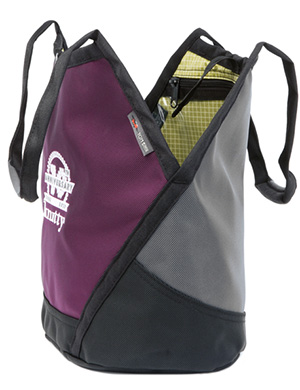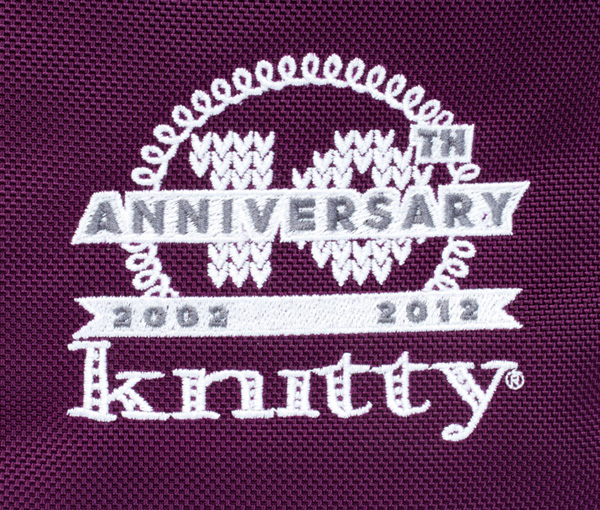 We have TWO of these last-in-the-world 10th Anniversary Knitty Swifts to give away. They were made as a limited edition last fall, and sold out by December. But we saved two for you! Each has a retail value of $100usd.
Regular contest rules: leave a comment on this post between now and midnight eastern time, Sunday, July 21st, telling us which is your favorite Tom Bihn bag (you don't have to own it already — dream aloud!). Two comments will be chosen at random to answer a skill-testing question. If the commenter answers correctly, they will win one of the two bags. If you have already won a prize from us in the past year, please do give other knitters a chance.
Good luck!