Friend of Knitty and innovator extraordinaire Cat Bordhi, has announced her next book: The Art of Felfs: Felted Footwear for Families.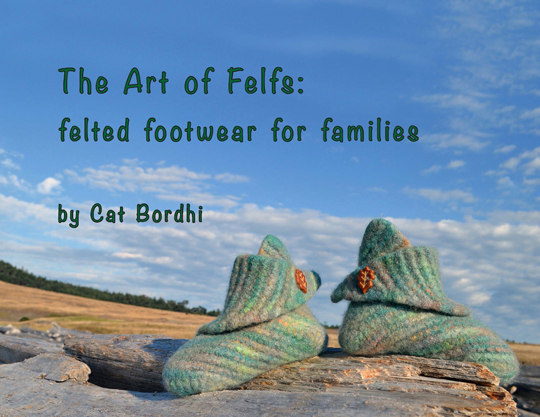 A new book of Cat patterns is always worth getting excited about, and this has a lot of typically wonderfully Cat ideas… although all the styles seem to have been knitted in the round, they are actually all cleverly constructed strips of garter stitch that are felted and folded in various ways to make a myriad shapes of comfy warm slippers.
And what makes this book even more special is that Cat has chosen to donate 100% of the proceeds of the sale of the e-book to a cause close to her heart: the cancer treatment research of Dr. David Krag at the University of Vermont Medical School. To quote Cat, "Dr. Krag, who pioneered sentinel node location, which has been used by over a million women with breast cancer, is now on the cusp of starting clinical trials for a cancer treatment that is as gentle as chemo is violent, and likelier to result in a complete cure." Cat has made a video to introduce Dr. Krag's work, and to tell you a little about the folding of the felfs.