It's fair to say that I am obsessed with blocking.
Blocking is such a key step in the knitting process. Blocking is the difference between a project being done, and being finished.
I think there's a fair bit of confusion about blocking, and the language has a lot to do with it: you hear about mats and pins and wires, and many knitters think that it's complicated and requires special equipment. Not at all! For the majority of projects, all that's needed is a wash.
Yes, just a wash.
Generally speaking, the only types of projects that require special equipment and treatment are lace projects. Otherwise, just give the item a wash.
Indeed, I never declare a project finished until it's been washed and dried. It's essential if you're going to be doing any seaming. If pieces are going to stretch or shrink that needs to happen before you sew up so the seams don't pucker.
But even if it's not going to be seamed, washing a piece makes it look so much better. The stitches even out and the wrinkles will disappear. The yarns bloom – a silk-based yarn gets shinier and prettier. A wool yarn softens and fluff up. A linen yarn loses the 'crunch'. Your cables will tidy up and pop, your ribbing become more even, your stockinette get smoother.
And chances are, the yarn you worked with is pretty dirty – as it moves from the mill to packaging to shipping and to the yarn shop, yarns gathers machine oils from the spinning, dust from the mill air, other fibre strands and fluff from the yarn shop, and lint from whatever else it's been stored with.
And of course, as you knit it, it might gather coffee stains, pet hair, cookie crumbs. After a good wash, you knitting just looks better. Try it next time you knit two of something – socks, mitts, sleeves. Wash one and compare it against the other. You'll be very pleasantly surprised.
In fact, this is what blocking is. For most things, when a pattern says to block, all that needs to happen is to wash it. The only type of knitting that needs special blocking treatment is lace; lace requires stretching to open up the stitchwork and make it look its best. (This is when you might need to worry about mats and wires and pins and all that jazz. Otherwise, nope.)
Washing is absolutely the best way to block. Neither pressing nor steam blocking can be fully guaranteed to take care of whatever stretching or shrinking is going to happen; and pressing can flatten out your knitting – for example, pressing an aran sweater squishes up all that lovely cabling.
Wash it according to the washing instructions on the ball band for the yarn – handwash or machine wash. I tend to air dry most things, even if they are dryer-safe – it saves energy and wear-and-tear on the garment. If you're air-drying, find somewhere you can lay the items flat, if possible. For small items, drape them over a towel rail, or over a laundry rack.
I do like to use a wool-wash. SOAK is fantastic – it's gentle on your fibers, and genuinely does not need to be rinsed out. So easy! If I'm hand-washing, I throw the item in the sink with wool-wash, and let it soak for at least half an hour. You want it to get fully saturated. Then I either roll it in a towel, or send it through my front-loading washing machine's spin cycle – to get most of the water out – and then lay it flat to dry. But, equally, if the yarn you're using is machine dryable, go for it.
Now, if it's a lace piece, this is when I get my mats and pins out.
Lace needs to be stretched to look its best – the yarnovers open up, and the decrease lines get crisp and pretty. A piece of lace straight off the needles is crumpled and lumpy.
I've just finished up a circular shawl project, and after I squeezed most of the water out, I pinned it out to dry, to stretch it, to make the patternwork open up, and to get those lovely pointed edges to be pointy.
Note the ruler: as I pinned, I measured it to make sure the points were equally spaced, and that the radius was the same all the way around, to make sure it was a neat and tidy circle.
You can buy blocking kits from various craft-tool suppliers, they usually contain mats and pins. I bought these mats from my local sporting goods supplier, Canadian Tire. They're 2 feet by 2 feet, nice and big for larger projects. The ones sold at craft suppliers are often smaller, which can be useful if you've not got a lot of floor space, or have smaller projects.
The pins are important – they need to be rust-proof t-pins. Buy the best you can find. You don't want rust-stains on your work!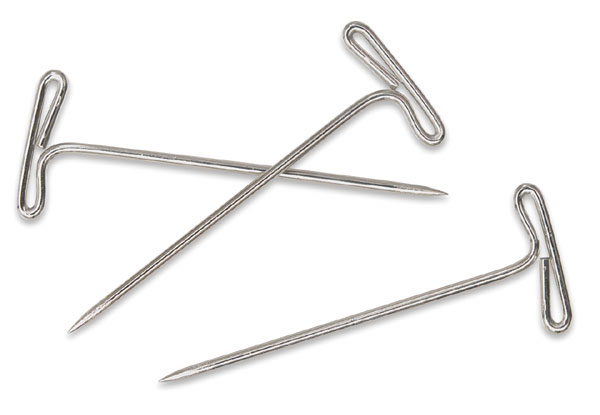 If your piece has straight edges, blocking wires can be very helpful… using them saves a lot of pinning. Feed the wire along the straight edge, like so:
And our friends at Signature Needle Arts have just released a most excellent new product: a blocking cloth. It's got grid-lines woven in, at one-inch intervals.
I used it recently when I blocked a tank top with a lace edge. I gave the piece a wash, and it came out beautifully – although when I laid it out on top of hte cloth I could see that the scalloped edge was definitely not straight, and the scallops weren't very even or pretty.
So I wet the piece and pinned it out again, with the cloth on top of my blocking mats, using the grid-lines on the cloth as a guide. I got a perfect straight edge, with even scallops. Brilliant!
But yes, whether you use fancy tools, or just your bathroom sink, blocking is critical. You'll be thrilled with the results, I promise!
If you'd like to learn more, I've got a Craftsy class on this topic… Let me show you how balloons and plates are useful for blocking hats! In the class I also talk about fiber care and washing and moth prevention and all sorts of other useful tips.