If you read the blog regularly (and you should!), you may have noticed the first post from our newest Knitty staffer, Maryla Bianco. (How do you pronounce that? Mare-la, she tells us.)
Maryla comes to us via an introduction from a trusted colleague and she's just getting started with Knitty. Her official title is Assistant to the Editors (that'd be me, Jillian and Kate), and we're easing her into this role, starting with the weekly WWW updates, every Wednesday on this here blog.
More about Maryla: Maryla comes to us after years in the white collar business world, and has accepted the mission to watch over and assist the editors of Knitty. She has an English degree, which she calls a B.A. in B.S.
She rules the roost of her testosterone-heavy home (a husband and three teenage sons), two terriers and two tabbies (all male).  When she's not feeding teenagers, she's knitting, spinning, bird watching, or singing '70s music at the top of her lungs.
---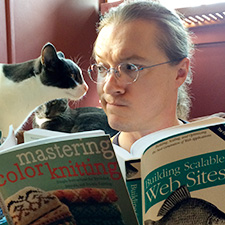 If you read the
Editorial
(and you should!) of our latest issue, you have already been introduced to our 2nd newest Knitty staffer, Christopher Gernon, our already beloved SysAdmin. Chris was 
not
eased into his role. We asked him to plunge right in, as if he was leaping off the high board into an ice-cold pool. And he blew it out of the water.
(OMG, Amy, enough with the stupid metaphors already.
) The details are all in that Editorial linked above.
More about Christopher:  As System Administrator, Chris configures servers, manages databases, analyzes logs, researches new technologies, and generally makes sure the site stays up and running.
Chris lives in Rochester, NY, with his wife, kids, and way too many cats. He only discovered knitting in 2013, but immediately fell in love with it and has been trying to make up for lost time ever since. He is frequently known to spend evenings knitting and laughing at The Village Yarn and Fiber Shop.
When he isn't knitting, he enjoys reading, working on amateur electronics, playing videogames, and handing over large sums of money to The LEGO Group. He also collects books (mainly vintage science fiction), puzzles (mainly involving spatial manipulation), and board games (mainly European resource management games with 30-page rule books). He keeps thinking about looking into home brewing, but let's face it, he already has more hobbies than anyone should.
---
Welcome Christopher and Maryla, would you? They're a pair of awesome folks and we're very lucky to have them!