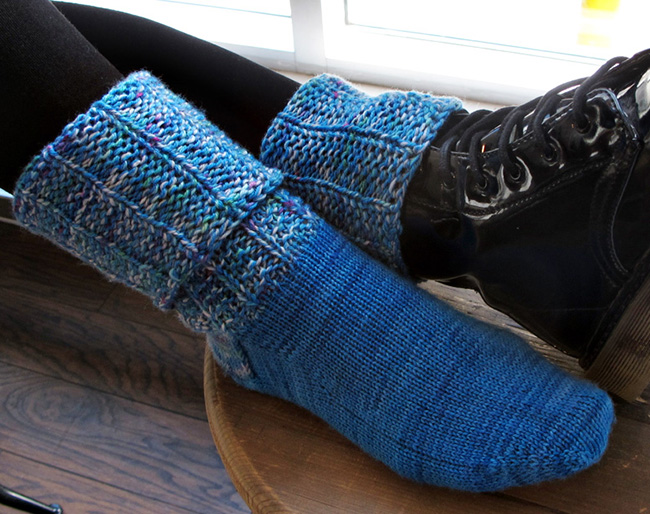 I'm grateful for all the love for my Sidekick boot socks.
(Funny story: You can't tell in these pictures, but the boots I was wearing had just developed a hole, and needed replacing. Shortly after we took these pictures, I got myself a new pair, and the first thing I did was make sure they still worked with socks. Because priorities.)
I'm not going to bang on about how you've probably got a lot of variegated sock yarn in your stash that needs using up, and how this is a great way to use up and tame a busy variegated yarn. And I'm not going to talk about how longer sock legs can take a long time to knit and that this design solves that problem, too. But there is one element of the design I do want to talk about… the pattern stitch I used on the leg.
For months, other designers were raving the wonderfulness of the book Sequence Knitting. After Laura Nelkin basically told me that she wouldn't be friends with me any more unless I got a copy, I went ahead and ordered it. When it arrived, I flipped through it, expecting my socks to be knocked off immediately.
And I have to make a confession: based on that first cursory pass through the book, I didn't get it. I thought I was missing something. I could see that it's beautifully photographed, the layout is gorgeous and very usable, and it's clearly well-written, but I didn't get why everyone was raving about it. They're just knit and purl stitch patterns, I was thinking… what's the big deal?
But one night I sat up in bed, and I read it. I started right at the introduction, and actually read through the book. This is a book that needs to be read. There is a fantastically clever and wonderful and amazing concept behind the book and the pattern stitches, and it needs a little reading and thinking. But I read. And then I thought. And now I'm obsessed.
Sidekick is my first design to be inspired by Sequence Knitting, and I'm quite sure it's not the last. This particular stitch is a three or four-stitch repeat (depending on how you're looking at it), and it creates a wonderful, squishy, stretchy – and most importantly – reversible fabric. Ideal for a long, fold-over boot sock leg, in fact.
---
Your gift knitting is done, isn't it? Nearly? (One year I finished knitting the hat I was giving my mother in the car on the way to her place Christmas morning…. I let her try it on and then took it back to weave in the ends and block it.) If so, it's time to be selfish! And just in time for the cold weather, perhaps a pair of quick-knit boot socks?
SpaceCadet, the dyers of the lovely yarn I used for this design, is hosting a KAL, starting December 26th. There are prizes! I will be popping in to answer questions, provide guidance and generally admire the colour combos that you'll choose! More info on the KAL in the Ravelry group. They're also offering kits of the yarn, too….