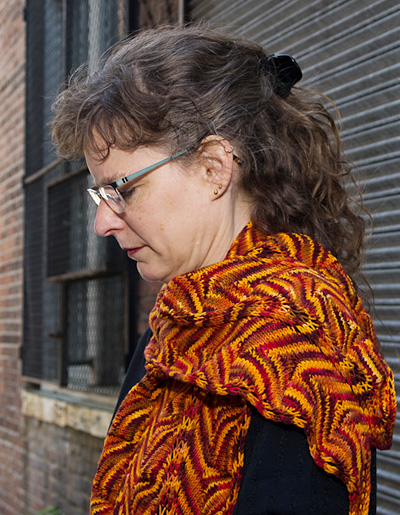 Tanya Seaman, designer of the beautiful and very clever Serendipia shawl pattern, tells us about her inspiration and design process….
I'm honored to have Knitty select Serendipia, one of my latest designs, for its Deep Fall 2015 edition! It's my first magazine-published pattern! I am pretty excited about this design, and especially pleased to have my hard work recognized in this way. The elements of this design have been in the works for a couple of years.
Up until a few years ago, I had been knitting up some pretty basic sample pieces with Done Roving Yarns' vibrant space-dyed yarns when the owner, Paula Farrar, asked me if I'd ever knit lace. I hadn't, but I was curious – and I was up for a challenge. I fell in love with lace almost immediately, and it's mostly what I knit nowadays. Because of my association with Done Roving, though, I was seeing all of these beautiful color combinations and wondering how I – now a lace enthusiast and not a sock-maker – was going to use them to great effect. And I don't mean, just use them as if they were solid-colored, but make the most of what they are, to highlight their beauty. I looked around at what others were doing but didn't see anything to grab on to. So I did my usual and made up something.
I love stripes, and I especially love bending them in some way. So, I was also interested in exploring a bent-stripe pattern, and used stitch-maps.com to see what it might look like. I had entered about half of the pattern and by accident hit the "Go for it" button, which generated a visual representation of my stitch pattern. It duplicated the pattern vertically, and – wow, this was an incredible look.
¡Serendipia, por cierto! [Serendipity, for sure!]
At some point my desire to bend stripes and use self-striping yarn merged into this new design. It took some patience and time to turn this into a knittable piece that would lie flat, as in reality, the peaks and valleys are much steeper than in this image. The first swatches show the colors pooling and striping, and for Serendipia I decided to focus on the striping version. (If you like pooling, please check out my Infinite Pools pattern, just published on Ravelry.)
To keep the stripes and color patterning flowing uninterrupted, I worked out how to put the decreases on the back side of the fabric. I created a video (another fun first!) to help knitters replicate this stitch.
To showcase to best effect the many specialty hand-dyed (and even machine-dyed) yarns, this pattern is intended to be customized. To make this easy, I created an interactive Excel file that spits out the customized pattern and charts.