The weather is getting chilly here in Toronto, and I'm starting to think about warmer clothes. I don't know about you, but I go through this funny transitional stage in my wardrobe: I need warming layers, but I'm not yet ready to put my favourite t-shirts away; I'm not willing to move to full pullovers and winter clothes. A cuddly wrap-style cardigan is just the thing for this time of year: it doesn't feel heavy, but provides a bit of warmth as the days get shorter. I can wear it over those favourite t-shirts, to help me gradually make the emotional and sartorial transition between seasons. It's also great for this time of year when the days are still bright and warm, but the evenings are noticeably colder.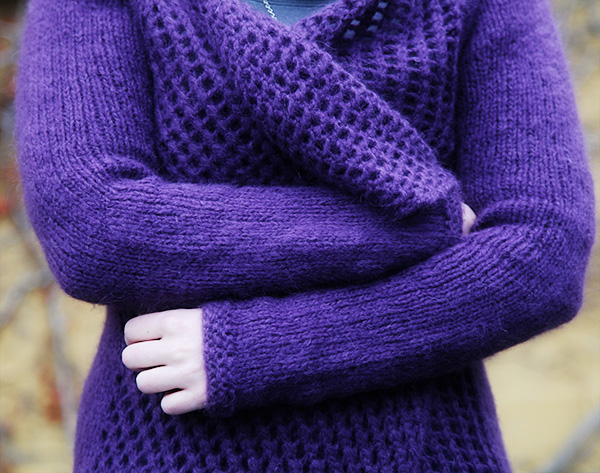 Emma Welford's Cirriform cardi is an excellent example of the sort of thing I love: it's cuddly and wrappy and light and lacy and lovely. It will look great over end-of-summer outfits, and make you warm without feeling heavy or wintery.
The designer writes about the cardigan on her blog. She provides some guidance on working the pattern, on choosing a size, and on choosing a yarn. The yarn was sadly discontinued after Emma completed her sample, but it was such a lovely design that we wanted to publish it anyway. She offers up some helpful information so that you get something that provides exactly the cuddly and warming effect you're looking for.