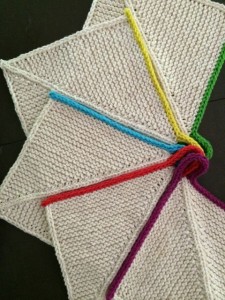 Lorilee Beltman is doing a good thing. She's selling a knit dishcloth pattern for $2, with all proceeds going to support the Special Olympics. Her late brother Mark was a participant, and she does this in his memory.
Lorilee says that Mark's enthusiasm would sometimes get the better of him: he would disqualify himself swimming by standing in the middle of the pool to wave to everyone.
---
Ok, we've all seen mug cozies and tea cozies and tree cozies… how about a building cozy? Well, ok, it's only a scarf. But it's still 700ft long.
---
Fantastically cool: Artist Angela Teng crochets with acrylic paint.